North American Shipping Agencies (NASA) commissioned me to develop a website that would serve as a universal reference point for their global business, as well as a refreshed brand aesthetic that would differentiate the company from their competition.
They had no existing site, but had a great need for an online reference point that would establish credibility with the numerous contacts they made in their global travels.
After surveying other businesses in the industry, it became apparent that many of their online presence was drastically dated (think advent of the internet), presenting NASA and myself with an opportunity to significantly stand out.  
Value Proposition:
Make a personal connection with you accessible from anywhere on the planet. Design the website to be an extension of your in-person connection you make with people, giving them more information about you, your company, and your values. In addition, the website will function as the "first impression" to leads who are referred to NASA from other people in your network, giving them a chance to get to know you before you even get to meet in person. 
Establish NASA as a leader in your industry. Through professionally branding your website you will be literally and metaphorically positioning yourself "decades ahead" of your competition. This will make a huge impression that you are current, modern, capable, and credible. It will also greatly increase the likelihood that people will remember your brand above others. 
Capture potential new leads more effectively and efficiently. Creating an email subscription service for you will allow prospective clients and people in your network to join your contact list right from your website. This will allow you to gather new leads directly through your website, create a database of those contacts, and have the option of delivering strategic communication to them (ex: newsletter for subscribers).
You want to be viewed as a refreshing and relevant contact for your principals: "a breath of fresh air", a bold and adventurous personality, and a trusted and skilled partner.
Splash Page & Form
Beyond just the website, I developed a "Net" for them to capture contacts and build a network that would aid in building their future business. This new included setting up an email list system that was integrated into their site infrastructure, an incentive offering for new site visitors to subscribe to their contact list, and strategic communications that would bring value to their contacts.
By establishing NASA as a valuable resource of information and insights, these strategies also built credibility with potential clients and contacts.
Newsletter
An additional incentive to grow NASA's contact list was the offering of exclusive content in exchange for subscribing to their list. The Newsletter is a free resource made accessible to viewers after subscribing.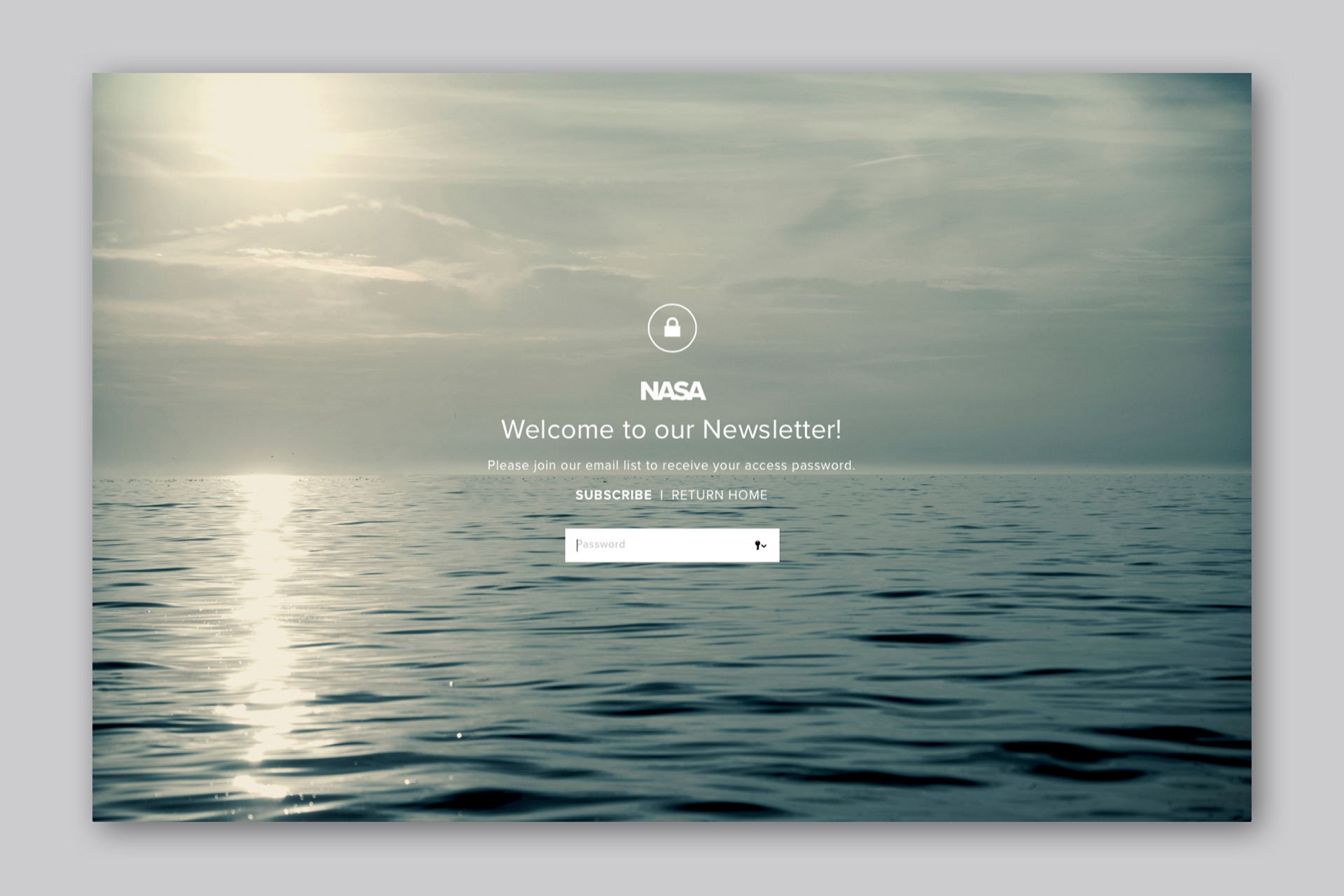 Website Guidebook
After creating the website, it was crucial that the handoff was a smooth one. To ensure that my client not only has a premium site, but also knew how to make best use of it and the connected services, I created an in-depth guidebook that details essential information and instructions for the primary tasks they would be using the site for.